Aluminum tool cases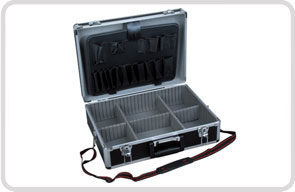 Name: Aluminum tool cases
Model: YJ-003
Size: 455*330*150 MM
Weight:
Availability:
Quick Details
Quick details
1, Item No. YJ-003
2, Dimension: 455*330*150 MM
3, Customized cases are welcomed
Packing & Delivery
Packing: bubble bag, carton or custom
Delivery: 30 days
Specifications
1.Five removable dividers in the bottom of aluminum tool case
2.One removable tool panel in the lid of aluminum tool case
3.One removable should strap on the outside
For this aluminum tool case, most feature is that it has three different parts could be removed. So, you could change them to meet your requirements.
In the bottom of case, there are five dividers. All of them are removable. So, you could change the volume of compartment all by yourselves. It will bring too much help when you put different tools into the case. Of course, if you do not need dividers in the bottom of tool case, you could take them out and we could add a piece of diced foam in the bottom of the case. Then you could make the shape of diced foam to fit your equipment.
In the lid, there are too many small pockets to leave enough room for your different styles of small tools. If you put them into the pockets, you could find them easily when you open it. It could promise all the small tools in the cases in order.
For shoulder strap, it is very useful when you put heavy tools into the cases and when you have no enough hand to take them.
Whenever you need the case , please feel free to contact us. Our experienced designer will provide best service.