Aluminum cases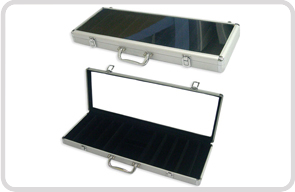 Name: Aluminum cases
Model: YT-002
Size: 520*200*52 MM
Weight:
Availability:
Quick Details
Quick details
1, Item No. YT-002
2, Dimension: 520*200*52 MM
3, Customized cases are welcomed

Packing & Delivery
Packing: bubble bag, carton or custom
Delivery: 30 days

Specifications

For this style of aluminum case, the profile is all aluminum. We could change the material of top and bottom panel and the size of length and width , but we could not change the height easily.
For the usual height as below:
1, 32 MM
2, 40 MM
3, 52 MM
4, 72 MM
5, 100 MM.
We usually make brief case with this style of aluminum frame. Or some small aluminum cases which are used to put light documents or small equipment.
For this aluminum case, it is used to put chips. The top panel is transparent, we could see the chips and do not need to open the case when we take it. Besides, we could put the printed-paper on the top of chips. Then the customers could see your logo or your advertisement.
In the bottom of aluminum case, there is a plastic pallet with lint. The plastic pallet has the shape of chip, it could promise the chips in order and they will not remove when we transport the case.
The quantity of chips in the aluminum case could be changed. Usual quantity is 100 pcs, 200 pcs, 300 pcs, 500 pcs and 1000 pcs.
Whenever you need aluminum tool case or other style case, please feel free to contact us.